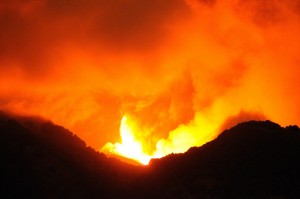 My flight from Amsterdam to Valencia was one of the first to make it on-time, on-schedule this Tuesday — but of course, before that, I spent several days anxiously keeping track of the latest updates on the cloud hanging over Europe. And while I consider myself very lucky (a friend of mine will be stuck in Hong Kong until the 6th of May!), it gave me plenty of time to ponder just how important on-line communications play a role in this nowadays.
First off, it became clear quite early on that perhaps the regular news from the traditional media (newspapers and TV, but including their online presence) wasn't keeping up anymore. When the eight o'clock news actually mentioned "people on Twitter are saying…" I switched off — I can get that real time on, well,… Twitter, following the hashtag #ashtag. Several forums kept me up-to-date with the latest news and charts from across the web, and even several blogs were better at keeping track of the latest developments. Also, I'd suggest journalists to at least take the two minutes to read the entry onEyjafjallajökull on WikiPedia — it doesn't look good if you know less about the volcano in Iceland than your viewers do.
But that's just the news — if you really need the information, because you're stuck in an airport or about to leave on a planned trip, you want to know where you're going (if anywhere). Unsurprisingly, here, too, traditional communications were failing. Call centers were flooded and it was impossible to get through to airlines and airports. And many of their websites.
As first the north and west of Europe were covered in the ash clouds, then the center of the continent as well, the various sites started returning 500 "Server too busy" errors (or just no response at all). At times like these, it's immediately apparent who has contingency plans for their website and who doesn't. Some managed by putting up a low-bandwidth replacement (like, for instance, Schiphol airport did). For most of these sites, it should really have been one of the WCM requirements.
In many cases, their role was now largely delegated to Twitter (and some on Facebook), which fortunately kept going just fine. And another advantage was also very apparent — where the web (if it's working) is still mostly "pushing out" information, Twitter and Facebook allowed interaction. Because people certainly have understanding for the disruption the volcanic ash causes — as long as they're getting at least the sense that other people are working very hard to help them out. As long as they're getting up-to-date information, they'll be much more forgiving.
There's an excellent analysis of how various airlines responded available on SlideShare. It's the summary of an assignment for a class on Social Media for PR at St.Edwards University. I especially liked this quote: "It seems like every time I'm scheduled to discuss the role of social media in crisis communication some major crisis comes along — usually just in time for class."
And this certainly isn't limited to commercial companies dealing with paying customers. In fact, EUROCONTROL, the European Organisation for the Safety of Air Navigation, was one of the unlikely stars of the past weeks. Their feed on Twitter shot up in popularity — it kept up-to-date to the minute, kept going through the week-end and actively engaged with worried travelers. It put a virtual face on EUROCONTROL, which will be an unexpected reward for the normally rather anonymous organization.
And if you still think your industry is unlikely to be affected by volcanic eruptions, so you don't have to prepare for one, that's true. It'll probably be something else you haven't thought of yet. In any kind of industry, you'll have to deal with crisis. It's foreseeable that those will be unforeseeable — which is exactly why you should make sure you have communications backups when they hit.
So heed these examples. Prepare for crisis in a pragmatic way. Make sure your site can cope and you have other channels available, as well. Think web and social, not phones and signs. In the long run, that's likely to be cheaper and much, much more effective.
This post was previously published on the blog of my former employer, the Real Story Group, an industry analyst firm specializing in vendor neutral reviews and advice.